A few of the students from 2013-14 describe what they've been doing since they graduated.

Annie Bonaccorso obtained a Bachelor of Science degree in Chemistry from Brown University before starting the Nuclear Energy MPhil. She is now working in California for the industrial supply firm McMaster-Carr as a part of their Management Development Program.
Chris Duffy

After completing my dissertation, I returned to the US where I began training as a submarine officer for the US Navy. Among my future roles is to stand duty as the Engineering Officer of the Watch, supervising and directing the operations of the (nuclear powered) engine room.

David Tullett
Following the completion of the course, I've started working for a niche management consultancy focused on supply chain and procurement operations within healthcare and the life sciences.
Sarah Forman    

I'm currently working as a Business Analyst at McKinsey & Co. in Washington, DC. Though I'm working in a range of industries at the moment, I'm looking forward to eventually focusing mainly on economic development and energy projects.

Mudassar Ahmed
I am currently part of Siemens Graduate Scheme and my job title is Graduate Development Engineer. However, I am starting a PhD at Cambridge soon.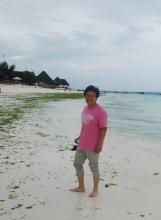 Zheng Guo
I am now doing my Ph.D study at Tsinghua University and just passed the viva. Everything is going well and I start to conduct research in the field of system optimization.