A few of the students from 2013-14 describe what they've been doing since they graduated.

Annie Bonaccorso obtained a Bachelor of Science degree in Chemistry from Brown University before starting the Nuclear Energy MPhil. She is now working in California for the industrial supply firm McMaster-Carr as a part of their Management Development Program.
Chris Duffy

After finishing in Cambridge, Chris served as a US Navy submarine officer which included operating several PWR nuclear propulsion plants. In 2021, he transitioned to service in the US National Oceanic and Atmospheric Administration (NOAA) to conduct research operations at sea.
David Tullett
David currently works for Deloitte as a management consultant based in Zurich, Switzerland. He sits in the Business Operations practice, supporting life sciences and pharmaceutical clients transform their operating models to improve efficiencies and reduce costs.
Sarah Forman is now working as the global Strategy Director at Urenco, an international supplier of enrichment services and fuel cycle products for the civil nuclear industry. "It's been a delight to work in the nuclear industry and to use the knowledge and credibility I gained from the Cambridge MPhil programme to help advance global energy security and sustainability goals." she said.  Before joining Urenco, Sarah worked as a management consultant at McKinsey and Company, both in the US and UK, and helped to grow a technology startup developing more sustainable, affordable, accessible public transport solutions. 

Mudassar Ahmed
I am currently part of Siemens Graduate Scheme and my job title is Graduate Development Engineer. However, I am starting a PhD at Cambridge soon. 
Cuicai Dong returned to China and Joined China National Nuclear Cooperation after graduating from the course. He is now a project manager for ITER fusion reactor building in France. The company won the building contract for ITER in 2019. "I am glad that I am still working in the nuclear industry,  and using the knowledge and experience gained from our MPhil Course to push the development of nuclear energy." said Cuicai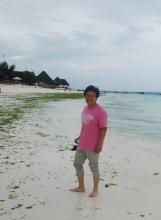 Zheng Guo
I am now doing my Ph.D study at Tsinghua University and just passed the viva. Everything is going well and I start to conduct research in the field of system optimization.